Tweets de @SOMEFLU
Catalog
Focus
Production process of SOMEFLU pumps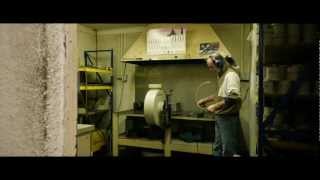 Find out
Someflu and Tapflo Poland

Tapflo Poland is a pump manufacturer and distributor serving customers in both – industry and hygienic sector. The cooperation with Someflu started in 2011 when Tapflo was looking for high class plastic pumps for customers in chemical industry. Since then Someflu delivers pumps to Tapflo helping to solve customer issues.
CASE STUDY
One of the customers of Tapflo Poland, operating in the chemical industry, asked for the selection of a plastic pump to handle a mixture of dechlorinated brine and gypsum. The customer reported that he had tried in this application various type of pumps, including one made of PE1000 with semi-open impeller. None of them gave satisfaction for more than 3 months, given the abrasiveness of the pumped fluid.
Knowing the customer commitment to high quality products and services, Tapflo engineers decided that the Someflu pump would be the perfect candidate.
SOLUTION – PUMP FOR TEST
After a detailed analysis of the abrasive medium, Tapflo and Someflu selected an HV pump type – made of SOMEDUR® with vortex impeller. In order to validate this solution, a test was set up with the customer.
It was agreed with the customer that the pump will be delivered free of charge for a 3-month test, after which it will be opened in the Tapflo service and its condition will be assessed. If the condition is satisfactory and promises further months of trouble-free operation, then the sale will be invoiced, and in the event of a negative test result, the pump will be returned.
TEST RESULTS
All interested parties eagerly awaited the end of the test and the opening of the pump. The pump worked for 90 days and then was taken to the service center and subjected to a detailed inspection which showed NO SIGN OF EXCESSIVE WEAR. This means that the pump should work without failure for the next months. Thus, the relationship with the customer was reinforced and we immediately received further inquiries for plastic pumps for brine.
SUMMARY
The key to solving the problem of rapid wear of the pump components was the use of a vortex impeller. Such impeller have certain advantages amongst which we shall mention excellent solids and debris handling, reduced clogging, tolerance for high viscosity liquids and smooth flow. Those pros altogether result in excellent reliability, longer service life and reduced maintenance cost.
Someflu and Tapflo again delivered satisfactory solution and continue cooperation to serve clients from Polish market. Described case was the trigger to further promote pumps with vortex impeller.
You can download the article here
back to the news